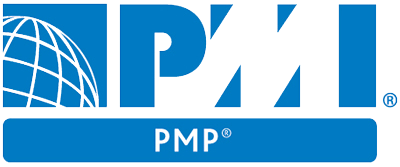 PMP
Project Management Professional
The Project Management Professional (PMP)® is the most important industry-recognized certification for project managers.
As a PMP, you can work in virtually any industry, with any methodology and in any location.
The PMP signifies that you speak and understand the global language of project management and connects you to a community of professionals, organizations and experts worldwide.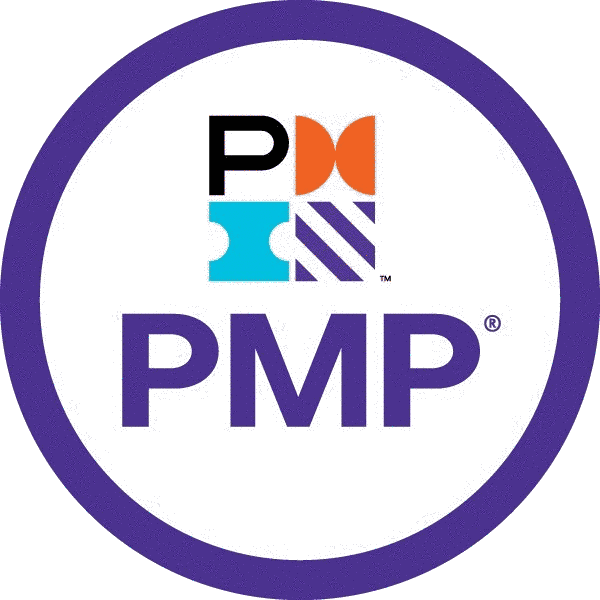 Project Initiation

13%

13%

Project Planning

24%

24%

Project Execution

31%

31%

Project Monitoring & Controlling

25%

25%

Project Closing

7%

7%
Frequently Asked Questions…
Am I Eligible?
To be eligible for the PMP you must meet one of the following conditions for education and experience:
Secondary degree (high school diploma, associate's degree or the global equivalent)
7,500 hours leading and directing projects
35 hours of project management education
OR
Four-year degree
4,500 hours leading and directing projects
35 hours of project management education
What Is the Exam Format & Length?
Computer-based Testing (CBT) and paper-based Testing (PBT)
Exam time: 4 hours.
Exam length: 200 multiple-choice questions
Language: English
How Much Does the Exam Cost?
Exam Fee*:  $620
*Once an exam application is approved, no refunds will be made whether a candidate withdraws or no longer wishes to take the exam because the access code to the PMP cannot be rescinded/de-activated.
When Can I Take the Exam?
Testing for the PMP is available year-round, subject to availability at the Prometric testing center of your choice.
More About Project Management Professional Certification
What is PMP Certification?
Project Management Professional (PMP) certification is the most sought after industry recognized credential for project managers. PMP exhibit the experience, skill, education and competency required to lead and direct projects seamlessly. Project management pofessional certification is administered by Project Management Institute (PMI), USA.
What Are The Benefits of Having a PMP Certification?
There are numerous PMP benefits  for individuals hoping to get the credential. Benefits range from better salaries to gaining global recognition and lots more. See top 8 PMP benefits for individuals.
What Are The Benefits of PMP Certification to Organization?
Just like there are nummerous benefit for individuals who get PMP certified, there are also very good PMP benefits for employers. Whether organizations sponsor their staff for the training or not, having PMP certified staffs gives the company competitive advantage, increase revenue, etc. See top 7 PMP benefits for employers.
What is PMBOK?
The PMBOK stands for or an acronym for Project Management Body of Knowledge. It is the complete collection of processes, best practices, terminologies, and guidelines that are acknowledged as standards within the project management industry globally.
What Can I do With a Project Management Certificate?
For those transitioning into project management, the project manager is normaly responsible for the success or failure of a projects. Regular roles of of a project manager include Planning, Executing, and Closing organizations Projects among others.
As a project manager, the PMP certification will greatly expands your skills, value, and potential career opportunities and give you global recognition. As a PMP, you can work in virtually any industry including manufacturing, IT, finance, healthcare, oil and gas, etc.
What is PMP Training?
Though some time used interchangeably, the training often reffer to the pre examination tutoring by industry experts to prepare you for the PMP examination with PMI. The aim is to tutor you well and get you ready to obtain the certification in one try.
What is The PMP Exam Like?
The project management professional exam contains 200 multiple-choice questions for four hours duration. 25 out of the 200 exam questions are considered pretest questions by PMI. The pretest questions have no effect on the PMP exam score. They are used in the examinations to test the validity of future examination questions.
The examination is center-based testing (CBT). This is the standard method of administration for all PMP examinations.
The examination is usually preceded by optional tutorial and a survey of approximately 15 minutes for both. The time used to complete the tutorial and survey is not included in the examination time.
It is after you get tutored and sit for the exam in a PMI approved center like certification edge that you are awarded the PMP certificate.
Who Should Attend the Training?
The PMP training in Lagos and other location in Nigeria can be attended if you have:
Secondary degree (high school diploma, associate's degree or the global equivalent)
7,500 hours leading and directing projects
35 hours of project management education
OR
Four-year degree
4,500 hours leading and directing projects
35 hours of project management education
What is the PMP Training Duration?
Certification Edge PMP classes last for 4 days (weekends). We however organize customized training lenght for organization who want extended time for their employees.
Do i Need to Bring Writing Materials to the Venue?
At Certification Edge PMP prep classes, we provide you with all learning/writing materials including pen. All you have to do is be at the venue
Where is Your Training venue?
Our PMP training in Nigeria venue is mainly Lagos and Abuja. Be that as it may, we train for organizations no matter where they are located in Nigeria.
How do i Register for the Training?
To register as an indivual or organization click here to access the registration page. Our reps will calll you afterward to confirm and answer any question you may have.
What do You Learn in PMP Certification?
You can find details about the course content here.
How Experience is Certification Edge?
Certification Edge has been in existence under the operations of Tycoons Project Limited launched in 2010. We have had the pleasure of training numerous individuals and organizations.
Why Choose Us?
We have been a leading brand in the industry for years now, because we deploy unique and innovative method in our training to ensure you pass your PMP exam easily.
Below are some of the reasons why you should choose certification edge:
Amazing team. We have an amazing team of professionals from customer care to tutors. Our team are hands on deck to answer all your questions and give you an exceptional experience through out the whole process. We know how busy you can be, hence we go out of our way to make sure your learning and exam period is enjoyable.
Access to Pre- classroom training learning materials. After you make payment for the PMP training, you gain access to materails to familiarise you with PMP concept, terminologies, definitions, etc. This is to help give you an idea of what you would be learning.
PMP Course presentation. To help you understand project management from a practical point of view, we follow the PMBOK project management process groups during training. This will demonstrate to you stages involved in delivering a project.
Second to non experienced tutors. Our team of expert with vast experience in project management theory and practices will make understanding the PMP course seamless. Our trainers are carefully selected from the best in the industry to make for ease of understing every process. Also, our certification Coach and Mentor are accessible to exam candidates all through the preparation period. They deploy innovative tactics to bring about an enjoyable interactive training, and answer any question you may have. See what people think about our trainings.
We are reputable. We are the leading and most process driven certification preparation organization in Nigeria, and have single-handedly hosted the HRCI in Nigeria for the first time in commemoration of HRCI's 40th anniversary in 2016. We have trained thousands, and we make the process of geting a PMP certification easy for individuals and organizations.
Networking opportunity. One of the benefits of PMP certification is good networking opportunities for participants. Professionals to be reckoned with from a variety of industry choose Certification Edge due to the quality of our training and the manner with which they are delivered. The resultant effect is providing you with opportunity to meet other professionals and build your professional network.
Post training mock test. After the training, and sufficient time giving to you for revision, a date is normally set aside to take the mock test which comprise of likely questions you will answer in the actual exam. The mock test is based on past and likely questions. After the online test, you will be able to review your score and see every question you failed and the right answer, thus helping you get fully prepared for the exam.
We have a functional support team to help answer your questions and give you exam registration guidance. We are available to you even after you have acquired your certification.