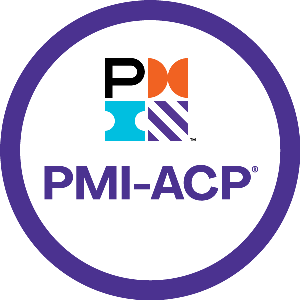 ACP
PMI-Agile Certified Practitioner™ (ACP®)
PMI-ACP® Certification Training
Agile Certified Practitioner (Approved Training Center in Nigeria)
The Project Management Institute-Agile Certified Practitioner (PMI-ACP), is a globally accepted credential in the Agile community. The document shows that the holder is competent in carrying out project management using Agile practices for better project delivery and risk mitigation amongst others.
By successfully completing the Agile Certified Practitioner, you'll demonstrate your superior knowledge to any company globally that:
You have experience via real-life scenarios using agile approaches
You Possess good collaborative skills
You can easily embrace complexity and thrive on rapid response times in project executions and more.
These are highly sought after talents in the agile community that can prove your skills above those with good reference.
The PMI-ACP carries a far higher level of professional credibility. It requires agile training by approved providers, experience working on agile projects, plus examination on agile principles, tools, practices, and techniques.
Why You Need PMI-ACP Certification
Companies pursuing speed, creativity and greater consumer focus have prioritized agile methodology not only for IT divisions but for functions throughout the enterprise. In reality, businesses that embrace agile in the most systematic way across their organizations are the most successful. With the quick adoption of the agile methodologies by most organizations, there has been a corresponding demand for professionals with agile understanding.
Agile is an iterative approach to project management and software development that helps teams create value for their customers more efficiently and with fewer complications. An agile team offers small but consumable increments rather than betting it all on a "big bang" launch. The criteria, strategies, and outcomes are continually reviewed so that teams have a natural instinct to respond rapidly to change. An agile environment allows organizations to respond to demand and pivot when needed.
The Agile Certified Practitioner or ACP from the Project Management Institute (PMI) are project management professionals whose companies are either using or moving to agile practices. It assures that the certification holder has real-world Experience in managing agile projects. The person also becomes familiar with many subsets of the agile methodology, including Kanban, Scrum, and Lean.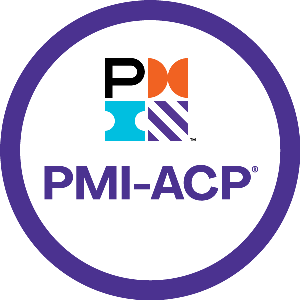 Agile Principles and Mindset

16%

16%

Value-driven Delivery

20%

20%

Stakeholder Engagement

17%

17%

Team Performance

16%

16%

Adaptive Planning

12%

12%

Problem Detection and Resolution

10%

10%

Continuous Improvement (Product, Process, People)

9%

9%
PMI-ACP® Certification Training Frequently Asked Questions…
What Are The Benefits of Agile Certification?
PMI-ACP Certification Benefit To You
Upon completing the course, you will be able to:
Understand and apply Agile principles and practices
Build high-performance driven teams
Master techniques used for actively managing project scope and ensuring quality delivery.
Deploy multi-iterative development models for projects
Deliver High-Velocity Stories and Epics
Learn new ways of managing project scope, schedule, budget and quality that are easily improved through effective Agile controls
Apply powerful metrics across projects to ensure continuous improvement
Understand common pitfalls while adopting Agile practices
Learn Agile principles of Scrum, Kanban, XP, and TDD
Understand the PMI-ACP certification exam process and be well equipped to pass the certification exam
What Are The Demands for Agile Certified Practitioners?
According to the 13th State of Agile Survey Report (2019),
74% of respondents adopted agile as it accelerates the software delivery
71% of respondents adopted agile because it reduces project cost
51% of respondents claim that adopting agile increases productivity
43% of respondents stated adopting agile enhances the product quality
How Do I Remain Certified?
The PMI-ACP certification credential is valid for 3 years. After which you will need to renew it (Meaning it is renewable every 3 years).
To maintain your PMI-ACP, you must earn 30 professional development units (PDUs) in agile topics every three years or retake the exam.
What Is the PMI ACP Exam Format & Length?
The PMI Agile exam CBT and consists of 120 multiple choice questions and must be completed within 3 hours. 
Am I Eligible to take PMI-ACP?
To earn the CBAP designation, candidates must:
Secondary degree
21 contact hours of training in agile practices
12 months of general project experience within the last 5 years. A current PMP®

 

or PgMP®

 

will satisfy this requirement but is not required to apply for the PMI-ACP.
8 months of agile project experience within the last 3 years
Who Should Attend The Agile Training?
Project Managers
Project Planners
Quality Assurance Staff
Developers/Programmers
Designers, Testers
Project Controllers
Product Owners
Scrum Masters
Scrum Team Members
How Much Does the Exam Cost?
The CBAP exam fee is $435.00 for members and $495.00 for non-members. 
Enjoy Early Bird Registration Discount. Click Here To Register
When Can I Take the Exam?
Testing for the ACP certification is available year-round. Upcoming Agile prep classes are as follows:
April: 17,18 24,25
July: 17,18 24,25
October: 2,3 9,10
What Is The Course Outline
PMI-ACP Certification Course Outline
AGILE DOMAINS
1. Agile Principles and Mindset
• Agile Manifesto and 12 Agile Manifesto Principles
• Agile Project Management Fundamentals
• Agile Methodologies
• Self-organization
2. Value-driven Delivery
• Value-based prioritization
• Value Prioritization Scheme
• Minimal Viable Product
• Earned Value Management for Agile products
3. Stakeholder Engagement
• Stakeholder management
• Knowledge sharing
• Participatory decision models
• Active listening
• Conflict resolution
4. Team Performance
• Team formation stages (formation, storming, normation, performing,
adjourning).
• Building empowering teams.
• Tabaka's model for high-performing teams.
• High-performing vs. low-performing team.
5. Adaptive Planning
• Agile planning stages
• Agile planning artifacts and meetings
• Agile planning teams
• Agile modelling
6. Problem Detection and Resolution
• Risk management
• Problem detection
• Problem resolution
7. Continuous Improvement
• Integration, testing, and experiments
• Review and retrospective
• Value stream analysis and mapping