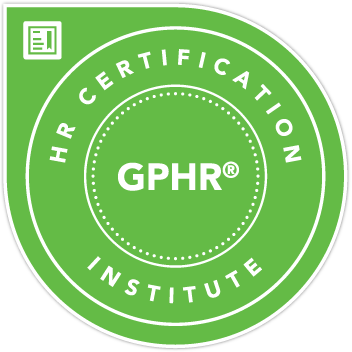 The Global Professional in Human Resources Certification (GPHR) is specifically designed for the HR professional whose job cuts across international lines. The holder must have complete understanding of the profession when dealing with different countries and national guidelines.
This GPHR credential focuses on the skills and knowledge necessary to operate successfully in the global marketplace. GPHR candidate will have cross border experience at developing and implementing global HR strategies. Its a global competency based credential designed to validate the skills and knowledge of HR professionals operating globally.
Why GPHR Certification
There are many benefits to human resources personnel wanting to get this credential. One of the main benefit is that you will become more desirable in the field. That desire for what you can offer translates into higher salaries.
You are extremely more marketable with GPHR Certification. That means you can land a position even in highly competitive environments.
With GPHR, climbing the ladder is faster if you are happy with your current employer. You can quickly become a director of human resources with a multi national company.
GPHR Course Outline
HRCi's GPHR training is an absolute comprehensive certification course. It is a higher HRCi certification when compared to APHRi, PHRi and SPHRi. Below are the course highlights.
Strategic HR Management
Entails the absolute development of global HR strategies to support the organization's short- and long-term goals, objectives, and values.
Global Talent Acquisition and Mobility
Covers extensively the development, implementation, and evaluation of global staffing strategies to support organizational objectives in a culturally appropriate manner. This includes utilizing the employer brand; performing job and cost analysis; and attracting, recruiting, hiring, and managing global mobility to meet business objectives.
Global Compensation and Benefits
Covers the establishment and evaluation of a global compensation and benefits strategy aligned with the business objectives. This includes financial and non-financial rewards.
Talent and Organizational Development
This encompasses the design, implementation, and evaluation of organizational development programs and processes to effectively develop a global workforce supporting business goals, culture and values.
Workforce Relations and Risk Management
The design, implementation, and evaluation of processes and practices that protect or enhance organizational value. This includes managing risk, ensuring compliance, and balancing employer and employee rights and responsibilities on a global basis.
GPHR Certification Core Knowledge:
Basic business, global, political, and socioeconomic conditions, demographics, law, and trade agreements, and how they relate to business operations
Globalization and its drivers, opportunities, consequences, and trends
Global management techniques, including planning, directing, controlling, and coordinating resources
Global project management methods and applications
Global application of human resource ethics and professional standards
Change management strategies,processes, and tools
Global leadership concepts and applications
Qualitative and quantitative methods and tools for analysis, interpretation and decision-making purposes and their application
Intercultural theory and specific cultural behaviors
Cross-cultural management techniques
Strategies for managing global vendor/supplier relationships, selection processes, and contract negotiations
Communication processes and techniques and their worldwide applicability
Effective use of interpreters, translators, and translations
Techniques to promote creativity and innovation
Principles and practices that foster a diverse workforce
Strategies of globalization versus localization of HR policies and programs
HR capability within the organization (both global and local)
Global Professional in Human Resources Certification Eligibility
Before you get certified in GPHR, you have to meet certain requirements. Not everyone can become a GPHR. To qualify to take the exam you need to have one of the following qualifications:
At least two years of experience in a global professional-level HR position + a Master's degree or higher.
At least three years of experience in a professional-level HR position (at least two in global HR) + a Bachelor's degree,
OR
Have at least four years of experience in a professional-level HR position (at least two in global HR) + a high school diploma.
Certification Edge is the leading approved HRCi training center in Nigeria for GPHR Certification. We have been working with individuals and brands to take their organization and career foreword respectively.
At the end of this course, all candidates Will be able to
Know key methods and practical guidelines for many global human resources tasks.
Describe strategies of globalization versus localization of HR policies and programs.
Easily navigate all modules in the Human Resources Body of Knowledge (HRBoK) and acquire essential skills to ensure success in the GPHR examination
Successfully register, sit for and pass the GPHR certification exam in one try.