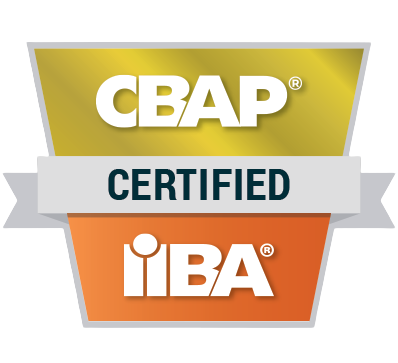 CBAP
Certified Business Analysis Professional™ (CBAP®)
About Certified Business Analysis Professional™ (CBAP®)Certification
The Certified Business Analysis Professional (CBAP) certification course is a weighty international business analyst training designed to provide intensive preparation for the CBAP® certification exam. The course focuses on understanding the Business Analysis Body of Knowledge (BABOK), acquiring fluency in the terminology of the BABOK, and identifying the tools and techniques that are a part of a Business Analyst's toolkit.
The (CBAP) designation is a professional certification for individuals with extensive business analysis (BA) experience. Therefore making CBAP recipients the leading, senior members of the BA community. It is an IIBA Approved CBAP Certification preparation course. CBAP certification is the most recognized business analysis certification globally.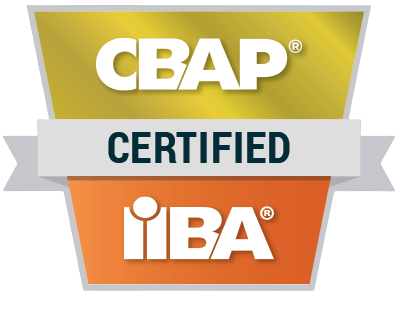 Business Analysis Planning & Monitoring

14%

14%

Elicitation & Collaboration

12%

12%

Requirements Life Cycle Management

15%

15%

Strategy Analysis

15%

15%

Requirements Analysis and Design Definition

30%

30%

Solution Evaluation

16%

16%
CBAP Certification Frequently Asked Questions…
What Are The Benefits of CBAP Certification?
CBAP Certification Benefit To You
The Certified Business Analysis Professional™ (CBAP®) offers members of the BA community a variety of benefits, including:

Demonstrated senior knowledge and professional competence
Marketability, employability and earning potential
Success and path to leadership

CBAP recognizes your expertise in multiple business domains and your ability to tackle more complex projects, work with stakeholders to define and manage their business requirements, drive business processes, lead the BA effort, and identify opportunities to achieve better business results.

The IIBA® Annual Business Analysis Salary Survey reports that the average salary of respondents with CBAP® certification holders is 13% higher on average in earnings in comparison to non-certification holders.
Why Else Do I Need CBAP Certification
Business analysis is the practice of enabling change in an enterprise by defining needs and recommending solutions that deliver value to stakeholders. Business analysis enables an enterprise to articulate needs and the rationale for change and to design and describe solutions that can deliver value.
Business analysis has become a highly essential competence for 21st Century Organizations. Becoming a Certified Business Analysis (BA) specialist will take your career in a new direction as opportunities for BAs are on the rise.
Business analysts are charged with identifying and defining the solutions that will maximize the value delivered by an organization to its stakeholders. Business analysts work across all levels of an organization and may be involved in everything from defining strategy, to creating the enterprise architecture, to taking a leadership role by defining the goals and requirements.
Upon completing this course, you will be able to:
Understand the CBAP® exam process (i.e. application procedure to taking the exam).
Master the Domains of Business Analysis.
Identify the attributes of being a Business Analyst.
Understand Business Analyst tools and techniques.
Understand the development and detailing of requirements.
Evaluate stakeholders needs and requirements.
Analyze, understand and document a process, system or structure to evaluate its effectiveness and efficiency.
Understand change management and how this needs to be aligned with an organization.
Understand how to harness the positive energy needed to bring about successful change
Manage stakeholders – identify, assessing needs relationship management
How Do I Remain Certified?
The Certified Business Analysis Professional (CBAP) from IIBA is normally active for 3 years. After 3 years, you will need to renew it (Meaning it is renewable every 3 years).
The CBAP recertification process requires that you earn a minimum of 60 Continuing Development Units (CDUs) every three years from your date of Certification.
What Is the CBAP Exam Format & Length?
The CBAP exam consists of 120 multiple choice questions and must be completed within 3.5 hours. Formulated from the BABOK® Guide, exam questions are both scenario and case study-based.
Am I Eligible to take CBAP?
To earn the CBAP designation, candidates must:
Complete a minimum of 7,500 hours of Business Analysis Work

 

experience in the last 10 years.
Within this experience, a minimum of 900 hours completed in 4 of the 6 BABOK® Guide Knowledge Areas, for a total of at least 3,600 of the required 7,500 total.
Complete a minimum of 35 hours of Professional Development in the last 4 years.
Provide two references.
Agree to Code of Conduct.
Agree to Terms and Conditions.
Pass the exam.
Who Should Attend The Training
Business Architect
Business Systems Analyst
Data Analyst
Enterprise Analyst
Management Consultant
Process Analyst
Product Manager
Product Owner
Requirements Engineer
Systems Analyst
Team member and others interested in achieving CBAP® certification
How Much Does the Exam Cost?
The CBAP exam fee is $325 for IIBA members and $450 for non-members. In addition to that, the application fee for CBAP is $125.
Enjoy Early Bird Registration Discount. Click Here To Register
When Can I Take the Exam?
Testing for the CBAP certification is available year-round. Up coming prep classes are as follows:
February: 20,21 27,28
May: 22,23, 29,30
August: 21,22 28,29
November: 20,21 27,28
What Is The Course Outline
CBAP Certification Course Outline
Knowledge Areas
Business Analysis Key Concepts
Business Analysis Planning And Monitoring
Plan Business Analysis Approach
Plan Stakeholder Engagement
Plan Business Analysis Governance
Plan Business Analysis Information Management:
Identify Business Analysis Performance Improvements
Elicitation and Collaboration
Prepare for Elicitation
Conduct Elicitation
Confirm Elicitation Results
Communicate Business Analysis Information
Manage Stakeholder Collaboration
Requirements Life Cycle Management
Trace Requirements
Maintain Requirements
Prioritize Requirements
Assess Requirements Changes
Approve Requirements
STRATEGY ANALYSIS
Analyze Current State
Define Future State:
Assess Risks
Define Change Strategy
Requirements Analysis And Design Definition
Specify and Model Requirements
Verify Requirements
Validate Requirements
Define Requirements Architecture
Define Solution Options
Analyze Potential Value and Recommend Solution
Solution Evaluation
Measure Solution Performance
Analyze Performance Measures
Assess Solution Limitations
Assess Enterprise Limitations
Recommend Actions to Increase Solution Value. Solution Evaluation tasks can be performed on solution components in varying stages of development:
Prototypes or Proofs of Concept: working but limited versions of the solution that demonstrates value.
Pilot or Beta releases: limited implementations or versions of a solution used in order to work through problems and understand how well it actually delivers value before fully releasing the solution.
Operational releases: full versions of a partial or completed solution used to achieve business objectives, execute a process or fulfil a desired outcome.
Underlying Competencies
Analytical Thinking and Problem Solving
Behavioural Characteristics
Business Knowledge
Communication Skills
Interaction Skills and
Tools and Technology
Techniques
Techniques are methods that business analysis professionals use to perform business analysis tasks. Business analysis professionals apply their experience and judgment demonstrated in their competencies to select and perform a technique to achieve a successful outcome. There are about 50 common Business Analysis and techniques and methods.
In a number of cases, a set of conceptually similar approaches have been grouped into a single technique. Any approach within a technique may be used individually or in combination to accomplish the technique's purpose.
Perspectives
Perspectives are used within business analysis work to provide focus to tasks and techniques specific to the context of the initiative. Most initiatives are likely to engage one or more perspectives. The perspectives included in the BABOK® are:
Agile
Business Intelligence
Information Technology
Business Architecture
Business Process Management